Your child is 4 months old, growing, developing, and needs more energy to discover the world. What should we feed the baby with, when it comes to new products? What should mothers choose? We have asked "FrutoNyanya", the food producer beloved by millions of babies, what the correct menu of the baby should be, and what mothers should take into consideration when choosing products for children. Helping people to be healthy from the earliest childhood, "FrutoNyanya" offers mothers the "FIRST CHOICE" products*, a wide range of products for introducing new food into the baby's diet.
5 questions from mothers about complementary baby food
Supplementary baby food. What it is?
According to the National Program for the Optimization of Infant Feeding of Children of the First Year of Life in the Russian Federation (Union of Pediatricians of Russia, 2011), "supplementary foods are all foods other than breast-milk or milk mixtures for infant feeding, supplementing the child's diet with nutrients necessary for further growth and development".
What should supplementary foods consist of?
There are three most important characteristics of supplementary foods: they should be of industrial release, one-component, and low allergenic.
In what order are the products introduced into the baby's diet? **
A pediatrician must answer this question and recommend the products according to the individual characteristics of the child.
Therefore, consultation with a doctor is essential and is the first step; their recommendations are important. Most often the first choice is a mono-component vegetable puree. Vegetables contain dietary fiber, organic acids, minerals and vitamins necessary for the proper development of the body. If the baby has problems with a regular stool, the pediatrician recommends starting with vegetables, and if the baby has insufficient body weight, start with cereal.
What are the rules for introducing supplementary foods?
Before giving complementary foods to your child, consult a pediatrician.
To feed babies, use products of industrial production, because they are a guarantee of safety. Each batch of baby foods is carefully checked for organoleptic, physicochemical, microbiological indicators and safety indicators.
Give a new product in the morning in order to check the baby's reaction to it.
Feed with a spoon, before breastfeeding or giving milk mixtures for infants.
Start the introduction of each new product with a small amount, half a teaspoon. Gradually, during 5-7 days, increase the volume of the portion to the age norm.
Should complementary foods be hypoallergenic?
Hypoallergenicity is the most important property of the first complementary baby foods. One of the main problems that parents encounter when giving the first complementary food is the risk of allergies. Most often, food allergy manifests itself in children at the very beginning of their acquaintance with new products. Therefore it is important to choose products whose hypoallergenicity is proven to minimize the risk of allergy development.
What is the First Choice?
Products of the "FrutoNyanya" First Choice is a line of 10 hypoallergenic*** products, ideally suited for the first acquaintance of a child with each category of supplementary foods, and also children's water that can be given to the baby from birth (specialist consultation is necessary):
dry diary-free porridge (rice and buckwheat),
one-component vegetable purees (broccoli and cauliflower),
juices (apple and pear),
fruit purees (apple and pear),
meat puree (turkey and rabbit),
children's water.
13 products of "FrutoNyanya" have been clinically tested in the Scientific Center of Children's Health of RAMS in 2011-2013. Studies have confirmed that these products of "FrutoNyanya" are well digested and do not cause allergic reactions***.
What to choose?
Vegetable puree
Vegetables are the basis of the First Choice. For supplementary feeding, it is important to use a vegetable mono-component puree, that is, containing only one kind of vegetable. For example, a broccoli or cauliflower puree will suit children with normal weight or who are overweight. They contain only vegetables and a small amount of specially prepared water. The use of water provides a gentle, uniform consistency. In puree, there is no starch, thickeners, flavors, preservatives, dyes and GMOs.
Dry dairy-free porridge
Porridge contains carbohydrates, vegetable proteins, dietary fiber, vitamins and minerals necessary for the harmonious development of the baby. Usually, the child is first given cereal porridge that does not contain gluten (a protein contained in cereals such as wheat, oats, rye, etc.), rice or buckwheat – and of course without milk, sugar, salt, or butter.
Hypoallergenic dairy-free rice and buckwheat porridge "FrutoNyanya" are perfect for children with a reduced body weight, and frequent stool.
In the dry porridge "FrutoNyanya" you will find 12 vitamins - A, E, D3, B1, B2, B6, B12, folic acid, pantothenic acid, PP, biotin, vitamin C. They are also enriched with iodine, zinc and iron, and do not contain flavorings, preservatives, dyes or GMO.
Fruit purees
Fruit contain natural sugars, organic acids, vitamins and minerals necessary for a growing body.
Apples, for example, are rich in micro-elements and dietary fiber. They contain potassium, fiber and organic acids, and vitamin C. Pears are similar in their chemical composition to apples, in that they contain potassium, an indispensable element that takes part in all the basic biological processes that happen in the body. Like apples, pears are low allergenic. That's why hypoallergenic fruit purees from apples or pears from "FrutoNyanya" are ideal for introducing fruit. They are prepared from ripe selected fruit, do not contain added sugar, starch, flavors, preservatives, dyes or GMO.
Juices
"Juices are widely used in the nutrition of young children. They are among the products that are the source of nutritional substances: fructose, organic acids, potassium, some juices contain vitamin C," comments Maria Vladimirovna Gmoshinskaya, a leading researcher at the Laboratory of Age Nutrition of the FGBU Research Institute of Nutrition.
The juice contains useful microelements for the development of the baby. Juice allows you to diversify the diet of the baby and introduces it to new tastes. In the nutrition of young children it is recommended to use industrially produced juices. At the plant of OJSC PROGRESS, the manufacturer of the brand "FrutoNyanya" in Lipetsk, there is a multistage quality control, from growing apples to juice production. This ensures the maximum quality and safety of products for the smallest consumers. The juices of "FrutoNyanya" do not contain added sugar, flavorings, preservatives, dyes, or GMO.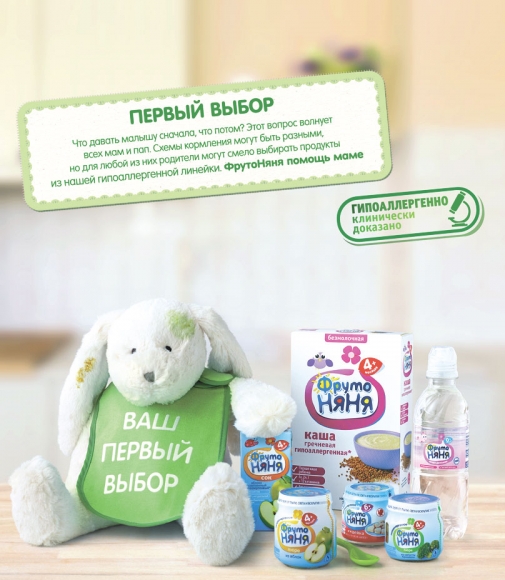 Meat puree
When the baby comes to 6 months of age, it comes time to introduce meat puree. Why is meat healthy for a growing body? It contains animal protein, iron, zinc, all of which are important nutrients for the harmonious growth of the child. Mono-component turkey or rabbit meat purees "FrutoNyanya" are prepared from one kind of meat and have a homogeneous and gentle texture. They do not contain salt, starch, flavors, preservatives, dyes and GMO.
Children's water
Children's water "FrutoNyanya" is suitable for the child from the first days of life both for drinking and for preparing all kinds of baby food. A balanced composition of water will provide the child's body with the necessary minerals.
Artesian children's water "FrutoNyanya" of the highest quality category contains the optimal levels of biologically necessary macronutrients (calcium, magnesium) and some trace elements (potassium, fluorine and others). "FrutoNyanya" children's water meets the requirements for water for children in the first year of life, from the moment of birth, for drinking and for the preparation of all types of baby food, including for the production of milk and porridge. "Every time you buy children's water pay attention to the label," notes Dmitry Makarkin, Director for Quality and New Technologies of OJSC PROGRESS. - The date and conditions of storage must be indicated on it. The label of children's water "FrutoNyanya" indicates the shelf life of 12 months at a temperature of +2 to + 25oC and a relative humidity of not more than 85% without direct exposure to sunlight.
Choosing the best for the child, moms think first of all about the child's safety and health. The right pediatrician recommendations and quality food products are the main guarantees that the important period of the first acquaintance with the complementary food will be successful, the baby will quickly get used to the new nutrition scheme.
Regardless of which scheme of feeding is prescribed by the pediatrician, the mother can find any product she needs in the "FrutoNyanya" assortment. "FrutoNyanya" leaves moms time and opportunity to enjoy every moment of life with their babies and helps them grow healthy.
* The first choice of products for the first acquaintance with the appropriate product category "FrutoNyanya".
** The ideal nutrition for an infant is breast milk.
*** Clinical research in the NCPD in 2011 and 2013 13 products of complementary food "FrutoNyanya" were served: apple juice clarified, pear juice clarified, apple and pear juices with pulp, apple puree, pear puree, prune puree, broccoli puree, cauliflower puree, pumpkin puree, rabbit meat puree, turkey meat puree, rice dairy-free porridge, buckwheat dairy-free porridge. Before the introduction of supplementary foods, it is necessary to consult a pediatrician. Information on the age restrictions of the application of the "FrutoNyanya" products is shown on the individual package.