Starting from July 1, 2016, consumers can try the new taste of "Apple and Cherry" clarified in a package of 200 ml, in the line of juices from FrutoNyanya, in addition to the juice "Apple and cherry" with pulp.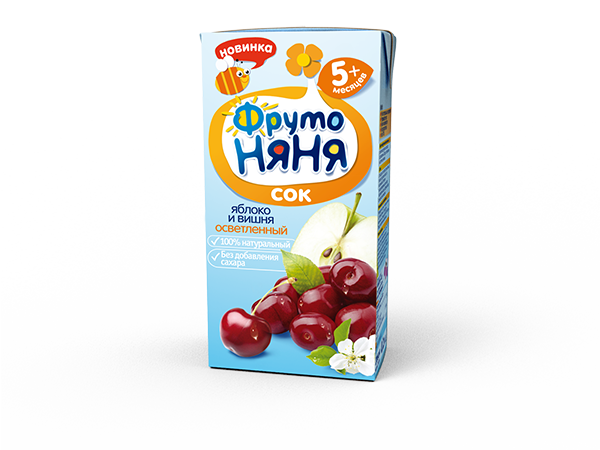 A new taste can already be found on the shelves of most chain stores under the label "New Product." The juice "Apple with Cherry" clarified contains many important and healthy substances that are necessary for a child of an early age. Cherry has special substances called anthocyanins, which give fruits a red color and makes cherry very healthy for babies, because anthocyanins belong to antioxidants and help protect the body from the harmful effects of the environment. And apples contain pectin, which contributes to the proper functioning of the intestine.
"Our company constantly works on new tastes that can pamper little gourmets. There are over 250 names in the line of our products, including fruit drinks, compotes, and juices (both clarified and with pulp). We believe that the new taste of clarified juice "Apple and cherry" is exactly what our small consumers were lacking. Among the children's drinks, parents prefer juices, because they are rich in vitamins and trace elements, which is why we decided to expand our flavor line, supplementing it with clarified juice "Apple and cherry", - says Anna Ivanova, Marketing director at PROGRESS.