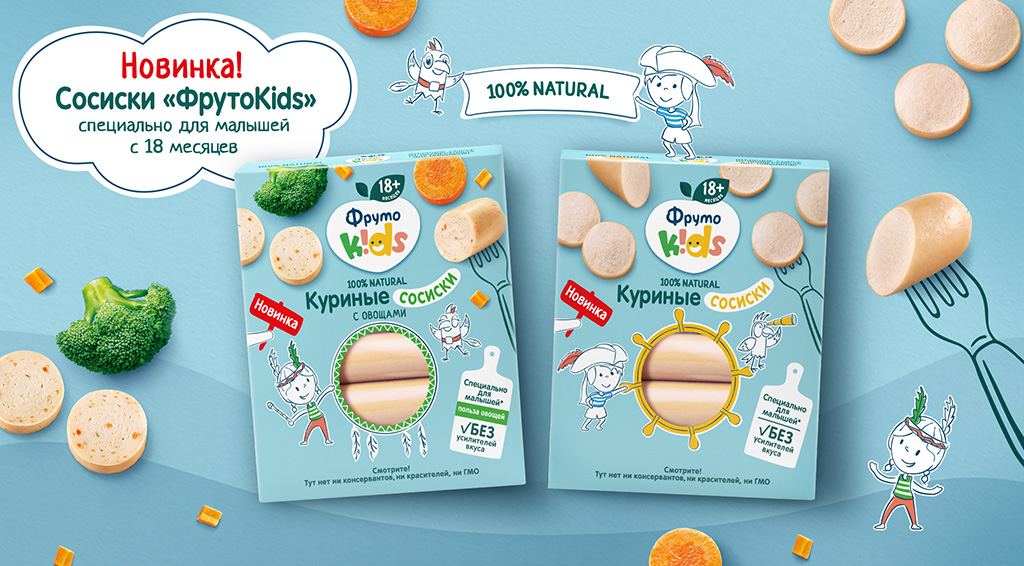 26 October 2022
Nowadays, parents are paying more and more attention to the quality of products in general and baby food in particular. Primarily, it is a question of natural ingredients and good nutrition. Each and every one of them is challenged by the need to transfer their child to a common table. The experts of JSC PROGRESS, the producer of the FrutoKids brand, are convinced that the easiest way to do it is by offering a baby thefamiliar dishes which he or she used to see on the plate of mom or dad, adapted specifically for him or her. It is extremely important that the transition to adult food is as safe as possible for the child.
"The transition to the adult food is usually a gradual one. And we see our task as making it as comfortable as possible for both the parents and, of course, the child. Traditional sausages can only be offered to children from the age of 3 and in very limited portions. However, FrutoKids sausages are different from the usual sausage products: they are 100% organic, with no flavour enhancers or colourings, and therefore are suitable for children as young as one and a half years old. We also know how difficult it can be to feed children with vegetables, so we "hid" broccoli and carrots in one of the novelties for extra nutrition," says Maria Kadantseva, Acting Marketing Director of JSC "PROGRESS".
FrutoKids sausages are easy to cook: they can be boiled for 2-3 minutes or heated in the microwave. On the inside of the pack, children will find entertaining puzzles to solve right after a tasty and healthy lunch or dinner.
______________
1
The product is intended for children over 18 months of age.